Ahmed Al Sharaf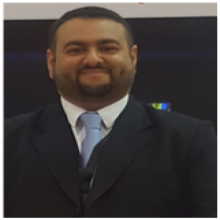 Wednesday, August 29, 2018 - 12:36
Tails - Natural Pet Food & Services
Ahmed Al Sharaf, is Bahraini entrepreneur who initially graduated university with a degree in Computer Science from the Republic of Ireland, holding various ICT specializing and over 17 years industry, Ahmed's first entrepreneurial journey was in a very different field.
It all started when Ahmed lost one of his pet dogs of 7 years passed away from an aggressive tumor. This prompted him to do a lot of research, and try to understand what lead to this, and he found that the conventionally manufactured pet foods lacked the right balance of proteins, carbs, fats and moisture needed to maintain the health of our pets. Struggling to find a dog food manufacturer that can provide him with the right balance, he decided to make his own dog food. Once he started feeding his dogs his own made pet food, he started noticing a major difference in their overall wellbeing. He then started making pet food for friends who own dogs which subsequently lead to a rising. At this point he realized it's time to turn this into a business. Although this business venture was close to his heart, starting a pet food business was far from his professional and academic experiences. Here, he turned to UNIDO ITPO, where he completed the EDIP program. Not only did he find the "practical and realistic program" useful for his own entrepreneurial journey, Ahmed also says "in my opinion it is one of the most essential programs to go through, for any startup business owner".
In 2010, Ahmed co-founded "Tails – Natural Pet Food", the first All-Natural Pet Food Producer in the region; offering his customers a secret and unique formula, made of fresh and all natural ingredients, guaranteed to improve and maintain the health of their pets. In 2013, he expanded his business, by co-founding "Tails Veterinary Centre", a full-fledged veterinary clinic to compliment the Tails Natural Pet Food concept and customer base. The vet offers a comprehensive end-to-end experience for the pets and pet owners. Tails Veterinary Centre vision is to deliver affordable veterinary care, without compromising quality. The veterinary is equipped and staffed to perform a variety of complex surgeries, blood analysis, dermatology, dental and infectious disease management.
Today, he is also the co-founder and Managing Partner at "Dynavate Technologies" an ICT venture specializing in demand driven ICT solutions for Small and Medium Business.