Harshad Jani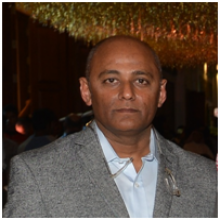 Wednesday, August 29, 2018 - 12:38
Bahar Jewellers – Custom-made Jewellery
Harshad Jani, 53, is an Indian national who has been residing in Bahrain with his wife Ami H. Jani for over 34 years.
In 2001, while still holding a full-time job, and after acquiring all the necessary certificates and permits, Harshad sold his property in India to raise enough start-up capital and started a wholesale business with his wife; distributing natural pearls to various retailers in Bahrain. By 2014, he was running an increasingly successful business so he decided to quit his job and focus on it full-time.
In 2017, Harshad joined the (EDIP) program. Because he was considering expansion, he found the program to be a timely opportunity for him to update his knowledge on all business related matters. By the end of the program, he learned how to effectively integrate new and creative ideas into his to expand his market reach and how to take calculated risks in order to achieve the growth he was seeking. Additionally, he was able to meet other like-minded entrepreneurs and build strong business relationships.
Harshad's 2017 Bab-al Bahrain project was initiated by the Ministry of Culture, who were referred to him through UNIDO's ITPO representatives who continue to support him to this day. This project (which took 6 months to complete) was inspired by the traditional Bahraini necklace "Martasha".
The project consisted of a decorative piece made-up of 20 thousand gold plated coin strings- suspended from a high ceiling, strategically located at the entrance of the Manama Souq in Bahrain's (Bab-al Bahrain).
The coin strings are 7 meters long and the whole piece weighs around2.5 tonnes in total, therefore careful installation was crucial to ensure safe completion as well as a safe display.
The materials used in this project were brought in all the way from India (coins) and China (pearls). All materials were wisely selected to ensure durability. It was a largely secretive project so Harshad and his team worked on the installation on odd hours (9pm-4am) to maintain an element of surprise.
According to Harshad, meeting the deadline was the most challenging part of the project as hanging the coin strings so close to each other, at such a height, proved to be a time consuming and challenging process. This resulted in Harshad, his wife and a team of 35 workers, spending long hours manually hanging the coin strings one by one then adding a pearl to the end of each string.
Upon completion, H.E Shaikha Mai bint Mohammed Al Khalifa, President of the Bahrain Authority for Culture and Antiquities and Chairperson of the Board of the Arab Regional Centre for World Heritage (ARC-WH), made an unexpected visit to the site, and that was a lovely surprise and a great honour to Harshad and all those involved in the project.
Many other officials and representatives from governmental and private entities joined in to celebrate the new addition to Bab - al- Bahrain.
Another pleasant surprise was the gentle ringing sound the hanging coin strings made when blown by wind, making it both visually and aurally appealing.
The piece has been exhibited in Bab- al Bahrain since Feb. 2017.
Today, Harshad co highly continues to run a highly profitable business (Bahar Jewellers Co.) from his office (located near Bab al Bahrain) were he designs and makes customised jewellery for clients all over the gulf. He enjoys drawing out designs and bringing them to life. He enjoys educating his customers about how their jewellery is being made and involves them in every step of the process to ensure they are happy with their finished piece. Customer satisfaction is very important to him as his current and main method of attracting new customers is word-of- mouth and referrals.
According to Harshad, the key to success is "Finding a hobby and making it your job". He finds great joy and in making jewellery worn in happy occasions as it makes him feel like a part of the celebration and he attributes much of his success to the Bahraini community, which he says enabled him to form long term relationships and a strong customer base, and of course, to his wife, Ami.
He adds that   "being chosen to complete this project, which is located in one of Bahrain's most historic and cultural landmarks (Bab- al- Bahrain), was both a "privilege and an honour" and he dedicates it to Bahrain, and its "supportive and loving community".