Saniya Abdulaal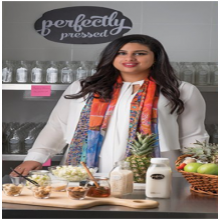 Wednesday, August 29, 2018 - 12:02
Perfectly Pressed - Juices and Nut Milks
Saniya Abdulaal is a Bahraini born and raised entrepreneur with a passion for food and art who turned her passion into a business when she co-Founded Perfectly Pressed; a local food distribution company with an aim to help Bahrainis lead healthier and happier lives. The business idea began with a health issue relating to dairy sensitivity, leading her to find other healthy alternatives as well as non-dairy alternatives. She started her entrepreneurial journey long before she launched perfectly pressed, by taking gradual, well thought of steps.
She joined the EDIP in 2014 when her business was merely a concept. The program provided her with an overview of all the elements involved in starting a business in Bahrain, and by learning about and the vast support structures designed to help entrepreneurs such as herself, Saniya gained enough confidence to take it a step further.
Once her entrepreneurial mindset has been solidified, she embarked on a journey within and beyond Bahrain to work on establishing other aspects of the business. She travelled to the USA and Asia, where she took raw food preparation courses and tried out several detox programs to gain more inspiration. She also happened to meet her business partner during that time and finally, launched perfectly pressed in 2016.
Creating awareness about the benefits of available and equally delicious healthier options and alternatives to the Bahraini market has been the biggest challenge, thus far. However, Saniya is determined to continue growing and increasing awareness about the need to integrate healthier alternatives to daily routines.
According to Saniya, the key to success is found through "Consistency, diligence and hard work". She also advises those planning on embarking on an entrepreneurial journey to "to keep an open mind and understand that every step is a learning experience, nothing happens overnight so be patient and always seek mentors and industry professionals".