Naziha El Koush, Lebanon Upcycling to Entrepreneurial Excellence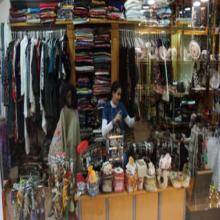 Thursday, November 12, 2015 - 12:55
Nigerian Naziha El Koush's journey to entrepreneurial success in faraway Lebanon was paved with non-useful recyclable goods. The skilful artist transformed these into objects of art for interiors and won herself a reputation for craftsmanship that led to a shop in Hamra under the name Tasmim. 
This giant leap came about when Naziha combined her innate artistic talent with the business skills that she learnt through UNIDO's EDIP program – drawing up a business plan, doing a feasibility study and making a business budget. At the legal level, UNIDO helped Naziha to establish her business officially and taught her to market her creations. Through UNIDO, Naziha found access to exhibitions and events where she could showcase her creations and build her brand.
"I developed my talent by studying interior design and took recycling as a theme for my project. I transformed all non-useful things to art and décor objects or to utility items.
Through the EDIP program, we started to know more about how to start our own business the right way, how to manage our project, how to market our products, and lots of other important things that we continued to learn about through counselling sessions. Counselling is a continuous support and a follow up for all entrepreneurs to solve business problems and find solutions," she said, "UNIDO EDIP Lebanon helped us to develop our business differently, i.e. from a professional perspective, and is always there when help or support is needed."
Naziha's husband Walid is also a UNIDO beneficiary entrepreneur and upon his return from Nigeria to Lebanon, the couple decided to pool their skills and business learning to expand the family project. Today, they have roped in their children and Naziha'smother  and sister into a profitable line of customized art stationary where one can customize your gift of stationary depending on what you like or what the person receiving the gift likes.
This second project is in Bchamoun and reflects Naziha's efforts to expand in Lebanon.
A true indicator of Naziha's success is the fact that her income has risen from a mere US$100 to $2000 a month and currently employs 6 women staff.
"Lebanese women entrepreneurs are very strong, and may be present in the market even from their home. They are fighting all kinds of competition they face from foreign labor to save their existence in the local market. But entrepreneurship is a joyful and challenging voyage especially for women. I started out as an entrepreneur to fit my ambition to my time – I was a mother of three children with free time in the mornings only. Today, thanks to UNIDO, I have graduated from running a small home business to running a successful family business that nurtures my creativity and brings in good income."
She added, "I advise entrepreneurs to take the risk - UNIDO entrepreneurs are very lucky, they should grab each and every opportunity to benefit from, and to follow step by step the action plan they put in place with the help of the counselor."